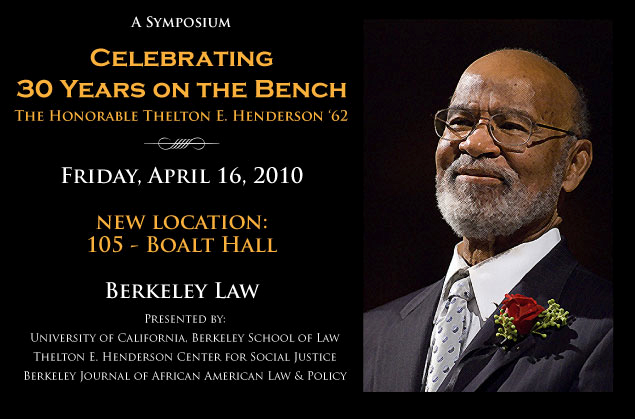 Time: 9:30am - 4:00pm, April 16, 2010
Location: University of California, Berkeley, School of Law
Event Overview:
This event featured three panel discussions with each panelist presenting a paper about Judge Henderson's decisions. The papers and panel discussions focused on the areas of law that Judge Henderson has made significant contributions: civil rights; the environment; and prison, criminal justice and institutional reform.
Among the presenters were Boalt Hall Professors Jonathan Simon, Holly Doremusand David Oppenheimer; Stanford Law School Professors Robert Weisberg and Deborah Sivas; Hon. LaDoris Cordell (ret); the Impact Fund's Brad Seligman and Ohio State University Professor Michelle Alexander.
The Symposium was sponsored by UC Berkeley School of Law, the Thelton E. Henderson Center for Social Justice and the Berkeley Journal of African-American Law & Policy.
The goal of the symposium was to celebrate Judge Henderson's accomplishments and establish a scholarly record of his influence on the bench.
---
Schedule
2010
Friday, April 16th
9:30 AM

Henderson Center


Berkeley Law, Room 105

9:30 AM - 9:45 AM

10:00 AM

Hon. LaDoris Cordell, (Ret.)
David Oppenheimer, Director of Professional Skills and Clinical Professor of Law, UC Berkeley School of Law
Brad Seligman, Executive Director, Impact Fund


Berkeley Law, Room 105

10:00 AM - 11:15 AM

11:30 AM

Holly Doremus, Professor of Law, UC Berkeley School of Law
Richard Drury, Partner, Lozeau Drury LLP
Deborah A. Sivas, Luke W. Cole Professor of Environmental Law and Director, Environmental Law Clinic, Stanford Law School


Berkeley Law, Room 105

11:30 AM - 12:45 PM

12:45 PM

Lunch Break


Berkeley Law, Room 105

12:45 PM - 1:45 PM

2:00 PM

PRISONS, CRIMINAL JUSTICE AND INSTITUTIONAL REFORM PANEL

Richard Kuhns, Professor of Law, Washington University School of Law
Samuel Miller, Of Counsel, Outten & Golden LLP
Johnathan Simon, Professor of Law, UC Berkeley School of Law; Faculty Co-Chair, Berkeley Center for Criminal Justice
Hon. Myron H. Thompson, U. S. District Court Judge, Middle District of Alabama
Robert Weisberg, Professor of Law; Faculty Co-Director, Stanford Criminal Justice Center, Stanford Law School
Edwin E. Huddleson, Professor of Law; Faculty Co-Director, Stanford Criminal Justice Center, Stanford Law School


Berkeley Law, Room 105

2:00 PM - 4:00 PM